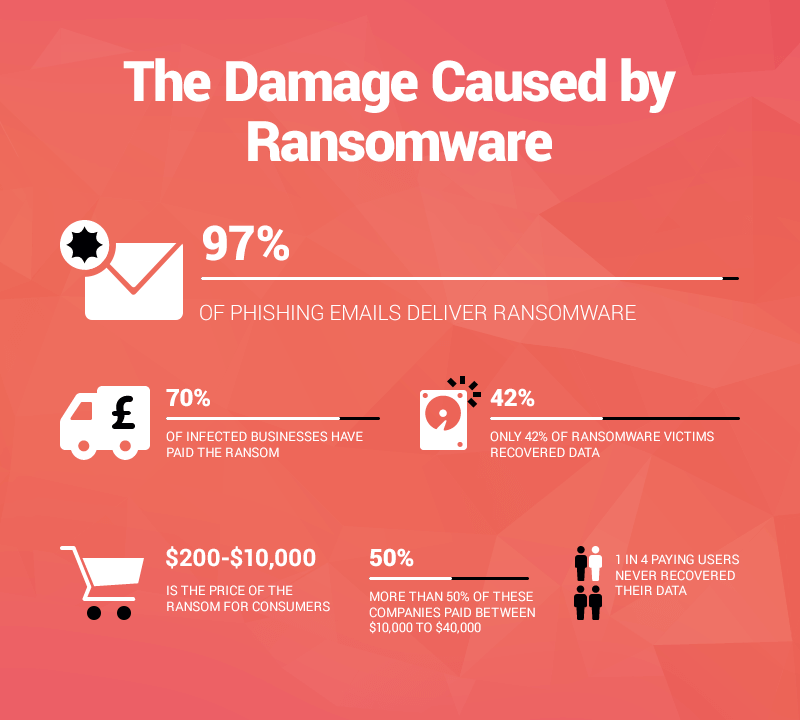 Infographic from https://heimdalsecurity.com
Kieri Solutions specializes in high-availability enterprise solutions. Our customers range from Fortune 500 companies to small businesses.
What is your risk profile?
Consider the following factors about your organization as you identify your risk profile.
If your IT systems fail, will people be harmed or die? Institutions like hospitals, the military, utilities, and government services fall into this category.
If your IT systems fail, will your employees lose the ability to work? Calculate the hourly cost of downtime.
Do you have valuable intellectual property or records? What happens if you lose it?
Are other businesses or customers relying on your IT systems? Examples are Verizon, Netflix, local government websites, IRS.gov
Is your business reputation (and revenue) linked to your IT systems staying secure? Consider the Equifax credit reporting agency breach.
Are you a target? Is your region prone to hurricanes or other natural disasters? Do criminals want to break into your systems? An example would be financial companies.
Service Provider (highest)
This category includes organizations that cannot afford even a short outage. Operational military networks, hospitals, and large service providers like Amazon Web Services fall into this category. IT systems need to continue working with almost no interruption (measured in seconds).
Enterprise (high)
This category is for organizations that are very large (by employees, revenue, or mission). The financial or reputation cost of an outage is high. The ability to quickly restore service is prioritized (measured in minutes).
Business (medium)
This category is for small and medium businesses which need their IT systems, but can absorb some downtime. Protection of intellectual property and the ability for employees to work is most important. Acceptable downtime is measured in hours.
R&D (low)
This category is for smaller departments that don't use their IT systems operationally. Normally this only applies to development, training, or testing environments. Acceptable downtime is measured in days.
What is your budget?
Ideally your budget should match your risk profile. If it doesn't, you risk unacceptable levels of downtime which could cause loss of revenue or even business failure.
I've consulted with businesses after they lost all their data due to system crash, natural disaster, and ransomware. Some closed their doors permanently as a result.
How can Kieri Solutions help you avoid downtime?
Based on your risk profile and your budget, we will help you find and implement a solution that fits your needs.
We often provide these services:
Business Continuity Plan / Disaster Recovery Plan
Backups for physical servers, virtual servers, and cloud data
Highly available infrastructure (such as redundant networking equipment, redundant server hardware, SAN)
Automatic fail over using VMware, Hyper-V, and cloud
Email us: info@kieri.com or call us: 1 (301) 253-5150 to discuss how we can help your organization keep working.